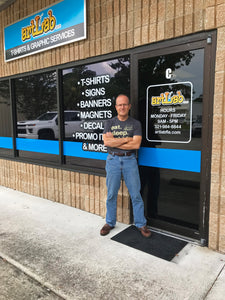 ArtLab is Brevard and Indian River's source for custom T-Shirts, Signs, Decals, Banners, Stickers, Promotional Products and Vehicle Graphics.
ArtLab T-Shirts and Graphic Services was founded in 2009 and bought by Chris Myer in May 2020, but our history of continuous service in the same location goes back many years before that.
With over four decades of experience, ArtLab provides custom designed Graphic T-Shirts, Signs, Decals, Banners, Stickers, Promotional Products, Vehicle Graphics and Wraps. Conveniently located in Palm Bay.
At ArtLab we find that providing quality merchandise and exceptional customer service is the foundation of who we are as a company, and the reason why ArtLab has built so many long-lasting relationships within our community.
SERVICES WE OFFER
Custom Printed Stickers
Everyone loves decals, stickers and magnets. You see them everywhere! In traffic on the car in front of you, on notebooks and lockers at school! Now you can get your design printed with Artlab!
Decals, Stickers and Magnets can be ordered in all shapes and sizes as
well as on a variety of materials to best suit the job at hand.
Vehicle Graphics
ArtLab vehicle graphics can be as simple as company logos on fleet truck doors for identification purposes, or full-color, full-coverage, high-resolution graphics
covering the entire truck!
With quality design and artwork, vehicle graphics and wraps are a great way to gain new customers.
Promotional Items
Advertise your business, organization, or Event on literally thousands of products! Anything from Business Cards, Postcards, and Brochures to Chip Clips, Pencils  Drinking Glasses, and Mugs.
If you want your logo on it, ArtLab can source it and print it for you. Co-ordinate your next marketing campaign with those little extra give-aways your clients will love.
Get exciting Discounts, & new products Alerts.
Directly to your inbox.
Subscribe Now!!
Customer Reviews
⭐⭐⭐⭐⭐

ArtLab did a great job on my trailer and provided excellent customer service throughout the entire process. Will be working with them for my business needs in the future.

Tommy Evans
⭐⭐⭐⭐⭐

Definitely what your looking for. Great customer service, very understanding. Staff is professional and produces quality work in timely matter.

Joshua Howell
⭐⭐⭐⭐⭐

Excellent staff and service. The crew of Artlab will not only provide fast and quality service it will be right the first time. Over 10 years having Artlab provide hats, shirts and lettering our vehicles. If you want personal attention and service go no further than Steve and gang of Artlab.

Michael Smith